Based in Budapest, Hungary, and established in 2019, Adroit Group Kft. proved to be a reliable technology partner for companies struggling to find resources and looking to grow further.
Team Adroit understands technology as the future of every business. They hand-pick challenging projects and strive to deliver them on time, promising absolute quality standards and purpose-solving compliance. The company serves its global clientele by providing various services based on back-end technologies like Angular, PHP, Flutter, TypeScript, JavaScript, Nest.js/Node.js, Vue, and DevOps.
What Adroit Delivers to its Customers?
The team of 50+ development professionals keenly work on providing diversified tech solutions at Adroit Group Kft. Website development is primary among all that demands massive efforts behind the platform to present stunning, good-looking, user-friendly, and intuitive websites. The company mainly uses Angular technology on the front end with various other back-end technologies to draw unbeatable and seamless user experience from the websites created. This agile methodology has always been helpful for Adroit Group to acquire a 4.9% customer satisfaction rate utilizing their 10+ years of experience and successfully delivering over 30+ projects so far.

The company develops mobile apps for brands of all sizes. They help startups, mid-size businesses, to large enterprises by developing Flutter-based mobile applications. The company believes that the future is for cross-functional app trends, and thus, they offer perfectly created cross-functional mobile applications that are simple, fast, and easy to maintain. Flutter, Dart, Xcode, and Android Studio are popular frameworks the company utilizes to create quality mobile applications.
Excellent technical consultants are employed in the company to help their clients achieve their business objectives. The consultation process covers everything from the start of the project to development and final delivery. Debian, Figma, and Invision platforms are used to provide reliable consultation to the clients at Adroit.
Adroit's technical professionals utilize cutting-edge agile strategies to deliver results per their client's needs and expectations. The company strives to provide industry-leading services to their client companies that help them effectively manage their projects and deliver the best results. Jira, Confluence, and Monday project and workflow management portals are dedicatedly used for such needs.
The DevOps team of the company significantly helps the businesses running on the AWS platform. The team also ensures that the group develops, tests, and delivers projects in an automated manner, ultimately reducing the development lifecycle's span.
Top-Notch Services Offered by Adroit Group
The primary industry focus of Adroit Group Kft. is on IT, healthcare & medical, and financial & payments industries. GoodFirms regards Adroit Group Kft. as the top web development company in Hungary that also operates in the USA, leading the world by storming Angular development technology solutions it provides. The company offers assistance to its client companies following three significant processes.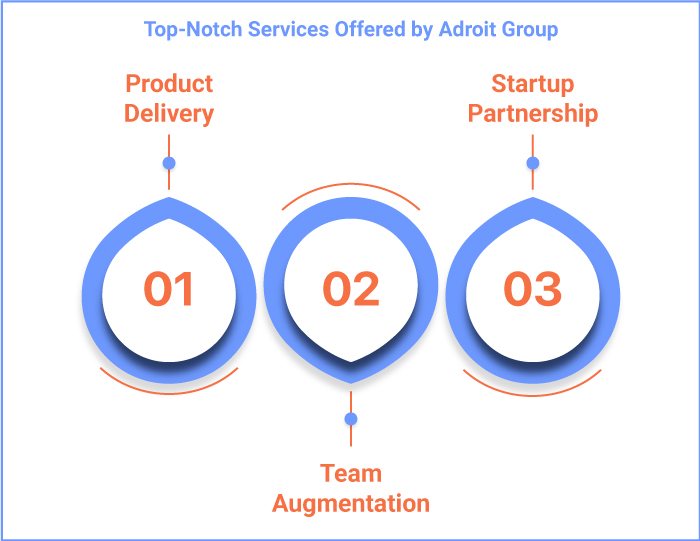 It works on end-to-end product delivery, taking care of its client's projects as their own. The company professionals always make sure that the outcomes are always in line with the objectives of their customers.
Team Augmentation remains the next level of service where an IT team joins a project, thinking and practising agile solutions. Expert engineers and developers always act as an add-on to enhance a team and serve the company best.
Team Adroit maintains lasting startup partnerships with their newly established client companies. The team successfully pivots, adjusts, and innovates during distress and challenges. These professionals unleash the business potential by bringing advanced services involving the agile mindset.
The top partner companies of Adroit Group are listed below:

Clients consistently appreciate good work, efficient services, and the behavior of the service providers. They always recommend to others if they receive better treatment and best services, and positive testimonials from clients prove that Adroit has always been helpful to their customers—one of the positive reviews in favour of Adrotd Group is displayed below.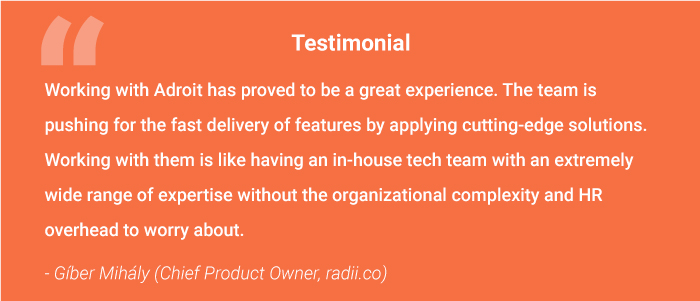 GoodFirms Research Methodology
GoodFirms is one of the leading review and rating service providers worldwide. It comprises a list of end-number companies, and over 60,000 positive client reviews that help B2B tech businesses get insights for choosing the best partner companies. GoodFirms simplifies the research process and helps shortlist the best candidate of their choice for their business benefits.
Conclusion
Adroit Group Kft. is a leading web and app development company that strives to deliver quality tech solutions using agile methodologies. The company has immense experience meeting its clients' requests by providing tech products and solutions that help achieve their business goals. Adroit has always been consistent in its efforts and shows excellent improvement to trust them further.
About GoodFirms
Washington, D.C. based GoodFirms is a reputed B2B research and reviews firm that aligns its efforts in finding web development and web design service agencies delivering unparalleled services to its clients. GoodFirms' extensive research process ranks the companies, boosts their online reputation, and helps service seekers pick the right technology partner that meets their business needs.
About the Author
Prepared by Anna Stark, a Content Writer at GoodFirms, who bridges the gap between service seekers and service providers. Anna's dominant role lingers to form every company's achievement and critical attributes into words. She strongly believes in the charm of words and equips new approaches that work, always with concepts.